Crypto analytics firm Glassnode is looking behind the scenes at Bitcoin's on-chain data and suggests that one major catalyst drove the recent steep price correction for BTC.
Glassnode tells its 408,000 Twitter followers that a massive flush out of excess leverage from Bitcoin's derivatives market was the likely sell-side driver behind BTC's crash to a low of $43,563.
"Bitcoin futures markets have experienced a significant deleveraging event, with over $5.4 billion in open interest closed yesterday.
Total futures open interest declined from $22 billion to $16.6 billion in one day, a decline of 24.5%"
When Bitcoin collapsed, the firm also looked at which entities on the network took the brunt of the pain. According to Glassnode's data, Bitcoin owned by long-term holders remained relatively unchanged during the correction, suggesting that investors who had just entered the market suffered the most.
"Question is, which cohort of Bitcoin holders were realizing these losses?
If we look to long-term holder supply, we can actually see their total holdings are unchanged over the past week. This makes it more probable it was recent buyers…
The short-term holder (STH) SOPR (spent output profit ratio) metric, on the other hand, shows very significant losses were realized by this cohort. Spending by STHs was the least profitable it has been since the $29,000 lows set back in July."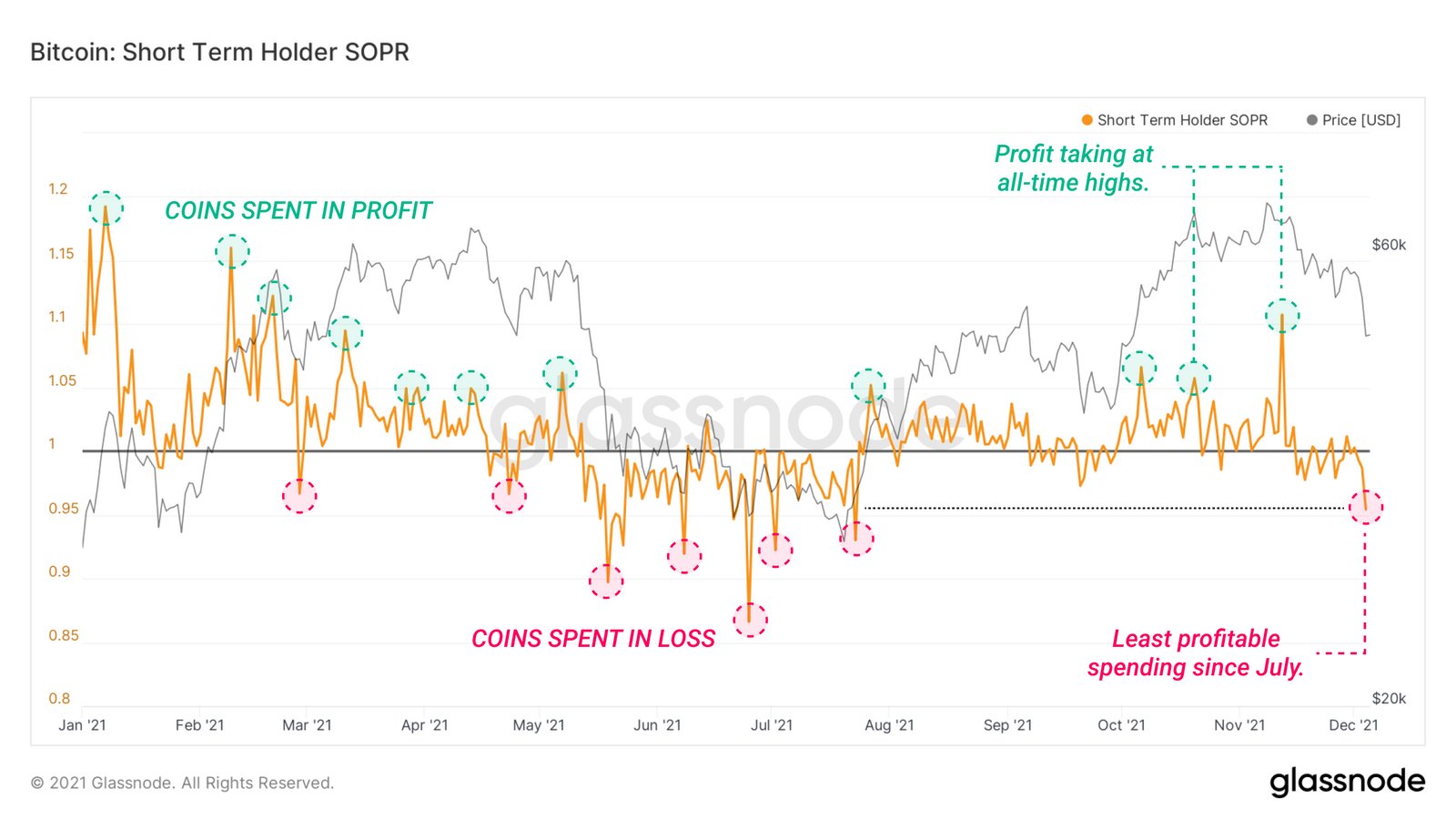 The insights firm says the liquidation cascade on December 4th was one the largest capitulation events in Bitcoin's history.
"Bitcoin holders realized the third-largest on-chain capitulation in history over the weekend, with over $2.18 billion in realized losses.
This compares to:
– $1.38 billion in March 2020
– $2.65 billion in May
– $3.45 billion in June." 
At time of writing, Bitcoin is trading at $50,848, down over 26% from its all-time high above $69,000.
ANALYST 2021 EOY PRICE PREDICTION
Daniel Polotsky, the founder and chief advisor at CoinFlip, believes bitcoin will end the year at $80,000, attributing this to bitcoin slowly replacing gold as a store of value.
Polotsky states, "As Bitcoin continues to mature and increase in value, usability, age and trust, it will behave less like a growth stock and more like a store of value. Eventually, Bitcoin will dethrone gold as the king of safe-haven assets, and hopefully, this changing of the guard takes place by the end of the decade."
Finder.com founder Fred Schebesta believes BTC will cap the year at $87,000 due to the surrounding hype.
First Digital Trust COO Gunnar Jaerv, who has an EOY prediction of $70,000, agrees with Schebesta that BTC will continue to rise with support from the market.
If you are interested in seeing Coinmarketology's #1 Rated choice for learning how to make money with cryptocurrencies,  check out this link //tinyurl.com/ra4zf9v4