Yuga Labs is projecting net revenue of $455 million this year, chiefly through virtual land sales that will kick off this month
The plans – including its own APECoin token – were outlined in a pitch deck obtained by The Block, which had been circulated to investors
The rumors appear to be gaining steam and looking more and more real. .  This aligns with their KYC announcement earlier this month and the aligned vision with Animoca Brands.
Update: an unconfirmed slide deck appears to outlay the entire plan for 2022 including
January: BAYC vs. MAYC Game
March: APE Token and Metaverse 1-100k Land Sale (Projected $180m revenue)
March: Merch Drop
May: Airdropping of Kodas (Mintable NFTs) ($2.3m Revenue)
May: Trezor Hunt
June: APE Fest (+ Merch) (Confirmed)
August: The trial of Jimmy the Monkey
August: Metaverse 101k-200k Land Sale ($190m)
September: BAYC >> MechaDog ($20m revenue)
September: Ultimate Mecha Ape ($50m revenue)
October: Mecha Dog vs. Mecha Monkey Invasion (P2e Blockchain Game
December: Merch Drop
Other Revenue Drivers throughout the year:
Secondary Sales throughout the year
% of the APE Token Sales
Merch Drops and Collaborations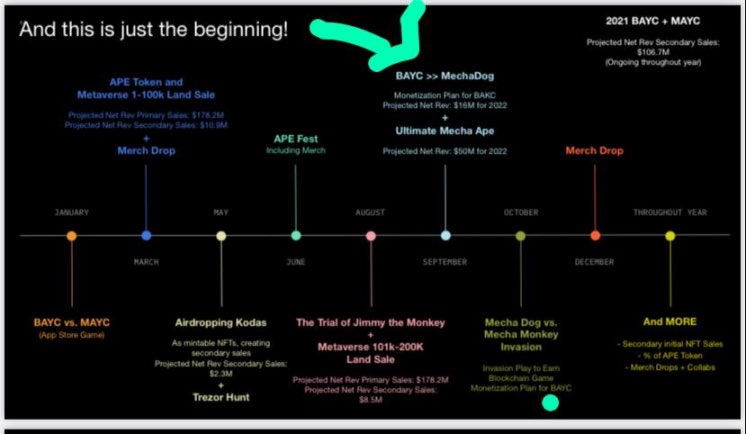 The Block received a deck that appears to show that Yuga labs brought in nearly $130m in revenue during 2021 and is being circulated by investors to gain additional funding. This information affirms the rumors around their goal of a $5billion valuation on the table.
In addition to Land sales, the team will have an app store that will allow users to sell and customize their NFTs in the new virtual worlds. The currency of this metaverse will be APECoin.
If the information is correct the details of the land sale include:
200,000 plots of land being sold during March and August (with the goal of creating $178m in revenue)
The Company will keep some virtual land for themselves
Animoca will also receive land (and is building a racing game for Yuga Labs)
We assume some land will be reserved for Apes, Mutants, Dogs, and now Meebits and CryptoPunks. 
MetaRPG Coming Soon
To that end, Yuga is planning to build a gaming-focused metaverse named MetaRPG that will be compatible with a host of NFTs.

There will be a system — described as an "in-game app store" — that will allow players to create characters using NFTs they own or from scratch, outfit them (again with NFTs), and use them in games, according to the deck.

Another crucial component of the proposed world is currency, which Yuga will provide in the form of a much-rumoured token named APECoin.

The token will be used to make purchases in Yuga's planned app store, and the company said in its deck that it will also encourage "trading and bartering." – The Block
More information is currently leaking including this tweet:
The tape leaked
-unconfirmed but this looks accurate pic.twitter.com/WQdC8hHsy5

— King BlackBored 🏴‍☠️👑 (@KingBlackBored) March 15, 2022
What is the Metaverse?
The Metaverse is a collective virtual shared space, created by the convergence of virtually enhanced physical reality and physically persistent virtual space, including the sum of all virtual worlds, augmented reality and a mixed reality world.
The term was coined in Neal Stephenson's 1992 science fiction novel "Snow Crash", which presents a vision of cyberspace as an expansive multimedia "metaverse" that encompasses all computer networks.
In his novel, Stephenson imagines the metaverse as a three-dimensional space where people can interact with each other through avatars, objects and environments in order to share information about themselves or just have fun.
What is KYC?
The KYC process is one of the most important steps in any financial transaction. It is a key part of the Know Your Customer (KYC) regulation that banks and other financial institutions are required to follow in order to protect their customers and their funds.
KYC regulations were first introduced in the aftermath of the 9/11 terrorist attacks, as a way to prevent money laundering by terrorists. The regulations were designed to make it difficult for criminals to use false identities or hold secret offshore accounts.
In recent years, KYC has become an integral part of banking, trading and investing across all industries and sectors. Today, KYC compliance is more important than ever before, as it can help mitigate risks associated with fraudulent transactions and money laundering schemes that are often perpetrated by cyber criminals
/themify_builder_content
/.entry-content
/.post-content-inner