Crypto Insiders Have Sent $2,500,000,000 in Bitcoin to Binance, According to Quant Analyst – Are They Finished Selling
The chief executive of a leading crypto analytics firm is revealing that, before last week's sell-off, insiders sent tens of thousands of Bitcoin (BTC) to crypto exchange Binance
Quant analyst Ki Young Ju tells his 291,700 Twitter followers that crypto insiders, which he refers to as market makers, transferred around 84,000 BTC worth roughly $2.5 billion at the time from Gemini to Binance
"The market makers, who use Gemini sent ~84,000 BTC to Binance from May 7th to May 10th, hitting an all-time high."

According to the quant analyst, the crypto insiders proceeded to relocate 65,000 BTC, worth $1.95 billion at the time, to various crypto exchanges with US-based trading platform Coinbase receiving the bulk of the transfer.
"The majority of selling pressure came from Coinbase since they had the largest BTC inflows from Binance. BTC/USD spot trading volume on Coinbase hit a year-high. Coinbase Premium hit the three-year low of -3%."
"Market maker(s), including the ones hired by LFG [Luna Foundation Guard], already sent 84,000 BTC ($2.5 billion) to multiple exchanges last week. Not sure they finished selling, but it is highly likely for the accumulation from institutions since Coinbase digested the majority of selling pressure."
The CryptoQuant CEO also says that institutional players are layering in buy orders in an effort to accumulate Bitcoin from $25,000 to $30,000.
"If you see the BTC/USD order book heatmap for Coinbase, it's pretty thick bid walls since the latest bear market in May 2021. I think institutions tried to stack BTC from $30,000 but had to rebuild the bid walls at $25,000 due to the unexpected LFG selling."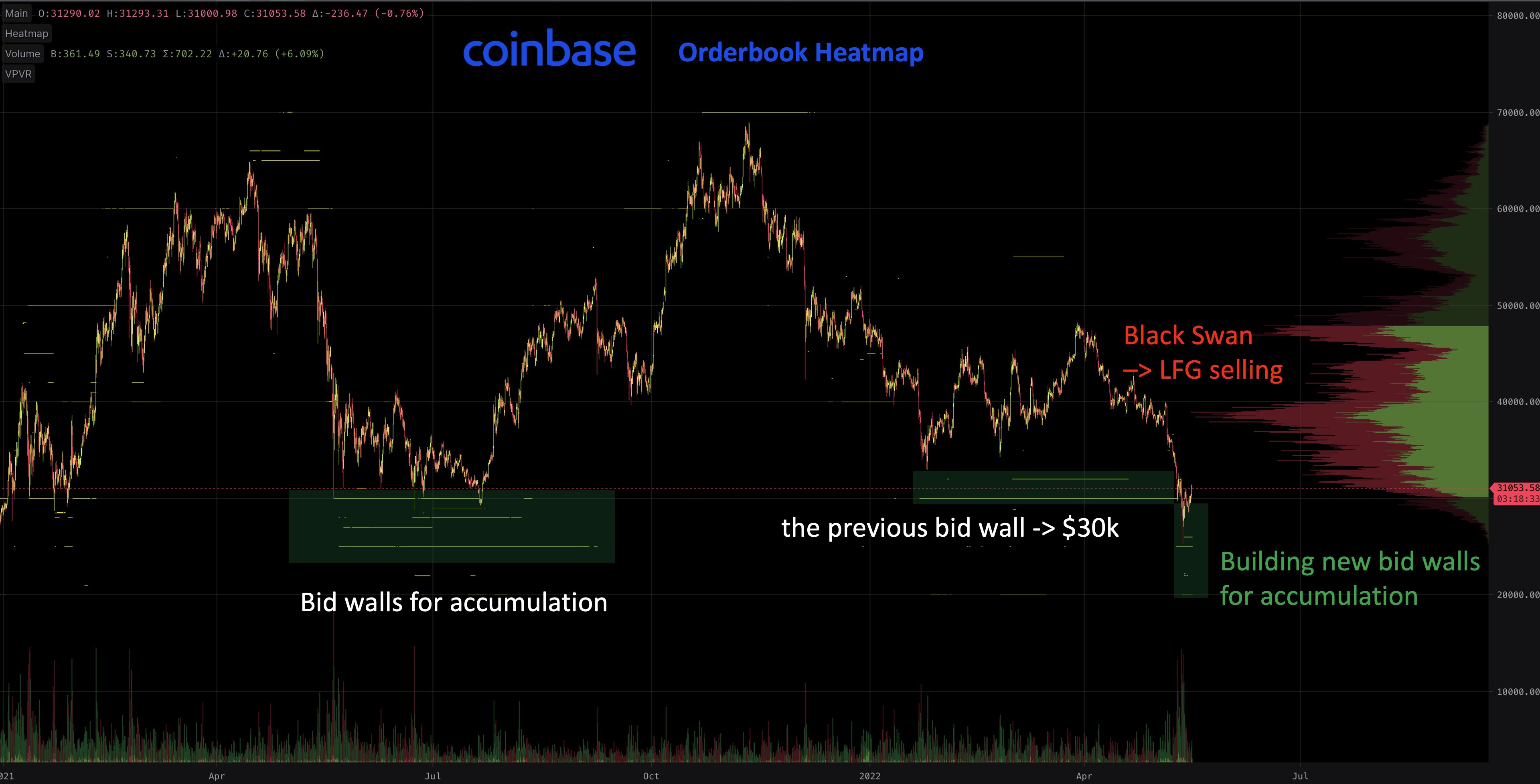 Bitcoin is trading for $29,973 at time of writing, down 3% over the last 24 hours.