Will luna recover?
The LUNA token is primarily utilised for governance and staking. In exchange for benefits from transaction fees, users stake LUNA to validators that record and validate transactions on the blockchain. It has no value other than its use to create and redeem 1 UST.
The LUNA coin price in USD largely traded below $1 from its launch in 2019 until it took off in early 2021 with the broader cryptocurrency market rally and the growing popularity of decentralised finance (DeFI) apps.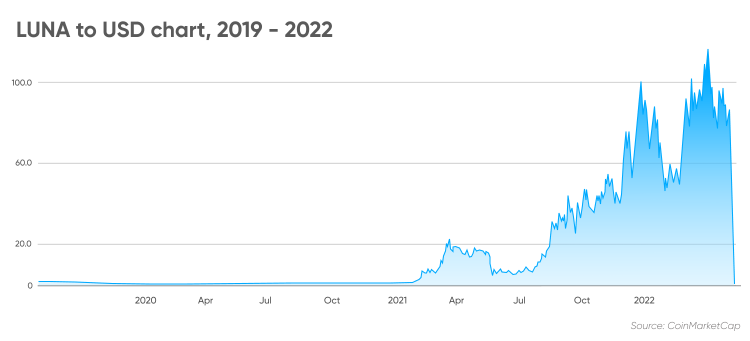 The terra crypto price chart shows that LUNA traded up to $22.33 on 21 March 2021, but fell back to $3.94 during the May crypto selloff. The price took off during the summer rally and accelerated in November, reaching $103.33 on 27 December 2021.
LUNA's value dropped when crypto prices fell in January 2022, sliding to $43.57 at the end of the month, but it rebounded to a new high of $119.18 on 5 April.
What is your sentiment on LUNA?
Vote to see Traders sentiment!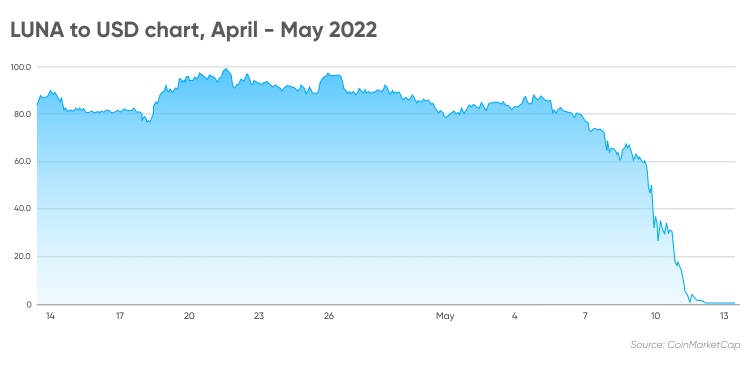 According to data from Defi Llama on 3 May, the total value locked (TVL) in DeFi apps in LUNA on the Terra blockchain reached $31.35bn on 6 April, putting it in the second spot behind ether, with $122.73b. Terra has since dropped to 11th place, with TVL dropping to $1.05bn.
Terra's response to LUNA collapse
Terra was founded in 2018 by Daniel Shin and Do Kwon, with the aim to drive blockchain and cryptocurrency adoption by focusing on usability and price stability.
Kwon, CE) of Terraform Labs, was previously the founder and CEO of decentralised wireless mesh networking startup Anyfi, and was a software engineer at Apple (AAPL) and Microsoft (MSFT). Shin co-founded and led South Korean e-commerce platform Ticket Monster, as well as startup incubator Fast Track Asia.
Kwon tweeted on 11 May that "the only path forward will be to absorb the stablecoin supply that wants to exit before $UST can start to repeg. There is no way around it. We propose several remedial measures to aid the peg mechanism to absorb supply." This includes endorsing a community proposal to increase minting capacity to absorb UST faster.
"With the current on-chain spread, peg pressure, and UST burn rate, the supply overhang of UST (i.e., bad debt) should continue to decrease until parity is reached and spreads begin healing," Kwon tweeted.
"Naturally, this is at a high cost to UST and LUNA holders, but we will continue to explore various options to bring in more exogenous capital to the ecosystem & reduce supply overhang on UST. As we begin to rebuild UST, we will adjust its mechanism to be collateralised."
The official Terra account on Twitter added that the goal was to remove "bad debt" from UST circulation. TFL proposed burning the remaining UST held in the community pool, will burn the 371 million UST on Ethereum and staked 240 million LUNA to deter governance attacks on the network.
On 12 May, TFL halted the Terra blockchain to prevent attacks by disabling delegations. The blockchain resumed production less than two hours later.
The impact of the LUNA crash on the cryptocurrency markets beyond Terra will take some time to play out. The analysts at Saxo noted that could result in stricter market regulation.
"Regulators and policymakers are still working on national and international regulations for the cryptocurrency space, and fear is now that the regulatory framework will be even more strict, and it could limit some of the existing use-cases for cryptocurrencies. In case potential applications for cryptocurrencies are constrained, the sentiment will likely go down as well."
Luna coin price prediction 2022-2025, 2030
What is the outlook for the LUNA coin now? Let's take a look at the projections from cryptocurrency forecasters.
In terms of short-term sentiment on the future price of LUNA, technical analysis at the time of writing revealed a bearish leaning. The coin was trading significantly below its moving averages, indicating a strong downward trend. CoinCodex's terra luna crypto price prediction based on technical indicators signalled that the coin's value could drop further by 3.62% to $0.000296 by 18 May.
The long-term luna token price prediction from DigitalCoin indicated that the price could remain in the low-single digits in the future. Based on historical data, the price could average $0.0136 for the rest of 2022, $0.0147 in 2023 and $0.0147 in 2024. LUNA could average $0.0201 in 2025 and $0.0477 by 2030.
The luna coin forecast from Price Prediction projected that the price could average $0.38 by 2030, up from $0.055 in 2025, based on its artificial intelligence-assisted technical analysis.
Other forecasters, such as Wallet Investor and Telegaon, had yet to update their terra coin price prediction at the time of writing (13 May).
The LUNA token collapse demonstrates the extreme volatility of cryptocurrency markets, which makes it difficult to accurately predict long-term prices. Unexpected events can defy analysts' and forecasters' expectations.
If you are considering trading LUNA or any other cryptocurrency, we recommend that you always do your own research. Look at the latest market trends, news, technical and fundamental analysis, and expert opinion before making any investing or trading decisions. Keep in mind that past performance is no guarantee of future returns. And never invest or trade money you cannot afford to lose.