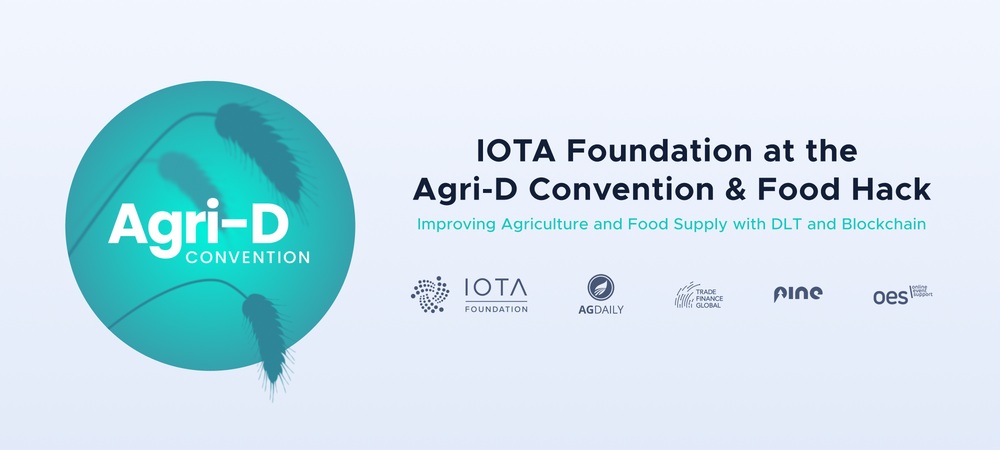 The global food market will generate over eight trillion U.S. dollars in revenue by 2020. Food consumption is a vital part of our lives, and many of us are involved in agriculture to some degree. But supply chain disruptions have created shortages around the world, and climate change poses existential threats to the primary sector of the economy (that is, industries involving the extraction and production of raw materials, including farming and fishing), which accounts for the bulk of the economies of developing nations.
How can blockchain and distributed ledger technology (DLT) make agriculture and the food supply chain more efficient, fairer, and more environmentally friendly? Can cutting-edge tech really bring more transparency and trust to the way we produce, transport and consume agricultural produce, support rural development and reduce food waste?
To look for answers for these and other questions, the IOTA Foundation is partnering with two major events. Both are online and free to participate.
On 12 November, the IOTA Foundation will take part in the Agri D Convention, the international online conference and exhibition dedicated to blockchain and distributed ledger technology in agriculture and the food supply chain. Participants will also include representatives of farming, agriculture, horticulture, technology, investors, business, non-profits, supply chain management, and more.
Before the convention, the IOTA Foundation co-hosts the Agri-D Food Hack on 5-7 November, in collaboration with the Agri-D Convention and Hyperledger, an umbrella project of open-source blockchains and related tools started by the Linux Foundation.
The Food Hack challenges developers and designers to put skills towards building open-source solutions in DLT and blockchain that can provide sustainable and social development solutions within agriculture and the food supply chain.
Together, the Agri-D Convention and Food Hack are an opportunity for the IOTA Foundation to highlight the use of DLT for the benefit of wider society, a key part of its commitment to sustainable impact.
The Agri-D Convention: Exploring blockchain and DLT in agriculture and food
The Agri-D Convention is organized by Croply.org, which focuses on decentralized digital identity and traceability systems to help bring safety, security, and trust to the agri-food sector. The Convention (which features the IOTA Foundation as the official event partner) includes over 70 speakers on subjects ranging from digital identity to data economy, rural development to finance and insurance, equality and environment to collaborative futures and future farming and more: see the full agenda here.
Tying these disparate issues together is the belief that technology can be a source of good for humanity and the planet. To explore this idea, the IOTA Foundation's Co-Founder and Chairman, Dominik Schiener, will participate in a main stage panel discussion, where he will be joined by experts from the UN World Food Programme, GitHub, blockchain research and development company Input Output Global, and Cultivati, an organization dedicated to researching the food supply (block)chain.
Commenting on the upcoming convention, Dominik says: "The IOTA Foundation takes its social responsibility to heart. We are proud to be able to offer a greener alternative to traditional blockchains: with no miners, IOTA generates much less energy expenditure than traditional blockchains, and as an open-source and feeless protocol, IOTA can be accessed and used by anyone, from independent farmers to international trade organizations."
Also on the main stage, Jens Lund-Nielsen, head of the IOTA Foundation's trade and supply chain efforts, will be joined by Alban Odhiambo, senior director of trade environment at TradeMark East Africa (TMEA) to discuss a digitized future of paperless trade. The IOTA Foundation has partnered with TMEA on several initiatives designed to make supply chains more equitable and efficient, including the Trade Logistics Information Pipeline (TLIP), a digital platform to exchange data and trade information. Alban and Jens will dive into the challenges presented by siloed, paper-based systems for crossing borders, and how DLT-based technology can deliver trust and control to farmers, customs officials, and the public sector.
According to Jens: "Better trade conditions mean better living conditions, and the work of TMEA and the IOTA Foundation proves that distributed ledger technology can help overcome the waste, inefficiencies and delays that plague today's analogue, paper-based trade. This brings transparency and efficiency to a supply chain that stretches from small, independent farmers to traders, border authorities, transporters and freight providers."
Using technology to build trust and transparency in the agricultural sector, among producers and consumers, is another key theme of the Agri-D convention. On the demos stage, the IOTA Foundation's head of telco and infrastructure, Dr Michele Nati, is joined by Alex Fryer, Intelligent Edge Solutions (IES) Regional Product Manager at Zebra Technologies, to explore "Connected Agriculture: Identity, IoT, and E-commerce". The IOTA Foundation and Zebra Technologies have partnered on several projects that combine Zebra's devices and software for data acquisition and processing with IOTA's technology (such as an immutable audit trail and a Self-Sovereign Identity Bridge) to tag, track and trace the movement of goods and people. (Recent projects include the development of a secure global vaccine verification system.)
Michele and Alex will share the power of track and trace and decentralized digital identities (DDI) to bring trust and transparency to the food sector – for example, by using the Internet of Things to track and trace food through its journey from production to market, by identifying small farmers and enabling them to sell their produce on the global market, and by creating credentials and digital seals of quality.
Commenting on the upcoming demo, Alex Fryer said: "Enabling connected devices to exchange data quickly, easily and credibly is already proving to be a game-changer for the many industries we are involved with, from healthcare to banking and from retail to government. The agricultural sector is no different, and the ability to track and trace the movements of produce and producers will result in a fairer, less wasteful food industry."
Also representing the IOTA Foundation at the Agri-D convention is Mathew Yarger, the Foundation's head of smart mobility. Mathew will use the opportunity to demonstrate Project Alvarium, a data trust fabric developed by the Foundation with Dell Technologies.
How confident are you that your '100% Natural' orange juice is just that: natural? Or that the 'organic' fruit at your local supermarket is sufficiently organic to justify that higher price? Are you sure the food you consume has been produced exactly as promised on the label?
Project Alvarium creates what are essentially "oracles" (services often used by smart contracts to provide trustworthy data) with the added functionality of a confidence score. Data feeds from these industrial oracles can be fed into smart contract applications, ensuring a globally scalable tool for measuring the trustworthiness of data.
The transformative potential of Project Alvairum on agriculture and food supply chains is staggering; not least as a secure technology that evaluates the trustworthiness of green promises. At the Agri-D Convention, Mathew will be joined by Trevor Conn from Dell Technologies to demo the use of Project Alvarium in organic certification, soil quality assurances, and more.
To see the full range of discussions, speakers and sessions at the Agri-D convention, check out the website.
Food Hack: Developing tech solutions for social good
A few days ahead of the convention, on 5-7 November, the Agri-D Food Hack is an online event open to developers, entrepreneurs, experts and enthusiasts from around the world who want to take part in creating technology for social good.
Teams of participants will be encouraged to brainstorm and develop new tools and applications to provide solutions to set challenges. The tools and applications can be built on top of either the IOTA or Hyperledger technologies, and experts will be on hand to offer support, insights and guidance to the teams. The challenges are divided into three tracks:
Sustainable Agriculture Create solutions that can support more sustainable agriculture practices across any number of global agricultural systems.
Rural Development Develop community-focused solutions that can empower or bring value and support to rural farming communities.
Food Waste Build solutions that can offer practical answers in reducing food and product waste within agriculture and the food supply chain.
Finalists will present live to the global virtual audience at the Agri-D Convention on November 12. The winning teams will also be supported to develop their solutions through mentoring and guidance from the IOTA Foundation, Hyperledger and the supporting communities.
The Food Hack will also feature several talks, workshops and discussions, including the following experts from the IOTA Foundation:
Jelle Millenaar, Lead, Identity, on digital identity
Eric Hop, Lead, IOTA Smart Contracts Protocol, on smart contracts
Valerie Grappendorf, User Experience Designer, on simple and accessible design
If you are interested in taking part in the Agri-D Food Hack, register your team before 09:00 CET on 5 November 2021. Find out how at the Food Hack website.
From data trust to digital assets, sustainability to software and applications, Agri-D promises to be a unique deep-dive into blockchain and DLT in agriculture and food. Whether you want to help develop world-improving technologies or are simply curious to hear from a broad range of experts in tech, science and agriculture, the Agri-D convention and hackathon are not to be missed.
Changelly, used by more than 2 million people, is a popular cryptocurrency exchange that offers 24/7 live chat support and over 150+ cryptocurrencies. Offering a transparent fee structure and a user-friendly platform, this exchange can be a great alternative to Coinbase, Binance, etc. for a more advanced crypto audience.
Learn more here; https://tinyurl.com/3vxfcj8w